Blunt admission: I am a very passionate skating fan, especially of ice dance. I am not only a viewer during the Olympics. When Covid first broke one of the saddest things for me was the cancellation of the World Figure Skating Championships in Montreal. There, said it.
First, I am tired. I stayed up late to watch the team event, the men, the ice dance, and some of the pairs. And I am a person who is almost always in bed by 11:00 pm.
Second, I didn't watch the women's event at all because I haven't followed the women for the last few years for many of the same reasons that have become the media focus during the games. Just stuff I don't enjoy talking about. Ick. Ick.
Third, I only watched skating. I didn't watch any other competitions. No, not even hockey or speed skating, two big sports for Canada!
Let's start with the Team Event. I know some skating purists don't like the team event, only in its third Olympics. To be frank, I like it because I think it's only fair that skaters should have more opportunities to win medals like so many of their fellow athletes in multi-event sports such as speed skating, swimming, etc. It's also a great warm-up (usually) for skaters in their individual competitions.
I thought it was highly enjoyable, though I was very disappointed in Roman Sadovsky, the Canadian man who had to step in for Keegan Messing when he was delayed in flying to Beijing due to a positive Covid test.
By contrast, I was so pleased by Maddy Schizas, the only Canadian woman in the competition. If it weren't for Maddy Canada would not have even made the team final (top 5 teams) which would have been a great shock after Canada won the team gold at the last Olympics. So great job to her – very mature, responsive and poised.
Two of my favourite skaters, Piper Gilles and Paul Poirier, in the dance event, just didn't have the best time. I've been watching their programs all year and all the changes they've made over the months. They looked more fluid, less rushed. But judges were really tough on them and they didn't have their best skates. On the other hand I was beyond excited that Americans Madison Chock and Evan Bates won the free dance. Amazing. I have loved their alien free dance from the start of the season when it was taking so much criticism for being un-Olympic.
On to the men. I am a very big Nathan Chen fan. Absolute unparalleled athleticism and focus. Not as much a Yuzuru Hanyu fan, though I respect his huge ambition and his technical greatness. I personally find that many of his programs look the same and thus I don't admire his artistry as much as perhaps I should. But what I loved most about the men was Yuma Kagiyama. There's this expression that skating commentators have often used over the years to describe very fluid skaters: "a skater's skater." It could not apply to him any more! He is so musical, so smooth. So clever and creative, and expressive in both happy and sad emotions. On a Canadian note, Keegan did a great job considering how long it took him to get to Beijing. He brings an energy all his own to the event and it's that uniqueness that I appreciate. Just a note on his spins: he is one of the best spinners in the world and doesn't seem to get appropriate marks for it. Is it because he's not a classical-type skater? Speaking of, of course I was extremely happy that Jason Brown finished sixth overall. No quad. No need. Beautiful musical skating. Especially in the short program, the Sinnerman choreography is unique, challenging, fresh and a perfect fit for Jason. I just cannot say how much I love him. He's probably one of the skaters I would most want to meet in person! He has a perspective and something to contribute to the world, not just to skating. It sometimes shocks me that I haven't stalked him outside the Cricket Club in Toronto.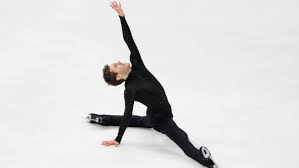 Jason Brown
Ah, the dance. Such an incredible last flight in the free program. I was so happy for Madison Hubbell and Zachary Donohue to skate so powerfully and cleanly in their final amateur skate. I don't love their program so much but that is irrelevant when they skate it so well. I personally would have had Chock and Bates in third and the Russians Sinitsina and Katsalapov in fourth (or lower). Listening to Scott Moir commentating very frankly on them on CBC was fascinating. Having also watched it on the Olympic feed, I feel the commentators there, especially Belinda Noonan, were kind to all the skaters. They were very positive and human. And I have no problem with that.
About the Canadians in ice dance. I felt heartbroken for Piper and Paul to have made a mistake in both programs. However, I found the rest of their programs were stronger than their marks indicated. I am not saying I thought they should have been on the podium: no, not here. Not the right energy. And as much as I have enjoyed the creativity of the Elton John-themed rhythm dance (and the bright orange costumes), the Long and Winding Road long program just felt heavy at the Olympics. I didn't think of it until I heard Sandra Bezic refer to it as "over-produced." I did not feel that way all season long. So sad that it concluded this way for them. I have really come to appreciate the work of Nikolaj Sorensen and Laurence Fournier Beaudry over the past few years. Again, it's very unfortunate that they had some mistakes because they have been rising up the ranks lately. I am very pleased they switched their free dance to Gladiator. The previous spoken word program just didn't hit it with me. I thought the third-ranked Canadian team, Marjorie Lajoie and Zachary Lagha, skated well and were somewhat undermarked. Especially in the free dance, their choreography is very sophisticated for their ages.
If I'm being honest, my favourite programs all season have been Chock and Bates' alien meets astronaut theme due to its creative choreography and fantastic lifts, and Piper and Paul's Long and Winding Road. One worked at the Olympics, one didn't. That's sports. Third spot would go to the Spanish team, Olivia Smart and Adrian Diaz, for their Zorro program. That they were able to skate it so well after having to compete it at the highest level all season long against their fellow Spanish team for that one ice dance spot for Spain, AMAZING. How they did it, I do not know. Again, that is the amazingness of sports!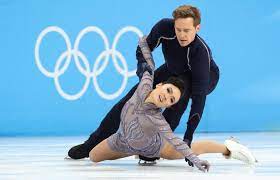 Chock and Bates
I didn't watch the women and have little to say except that there is no surprise to the initiated that something is wrong with Eteri Tutberidze, her so-called methods, her humanity, her choreography (or lack thereof). Everything. Just one high point: Kaori Sakamoto is another of those pure, fluid skaters. A person is allowed to and should be expected to show joy in skating!
The pairs surprised me. Pairs skating has gone in a very weird direction in the last few years with such downer music. Slow, weepy, teary. I'm not in love with that trend at all. However, there were a number of stunning performances. For one, the Japanese team of Riku Miura and Ryuichi Kihara. Such joy, abandon, love of skating. This has been building all season long and it is such an absolute pleasure to have seen them on this Olympic journey. Not quite with the same freedom, but close, Russians Evgenia Tarasova and Vladimir Morozov finally had a clean, passionate skate. Wow. What a pressure relief for them after the disappointment of the free program at the 2018 Olympics. I respected and appreciated the cleanliness of the third-place Russians, Anastasia Mishina and Alexandr Galliamov. Very talented and mature. They just need to push harder and put more emotion in until the very last moment. Finally, probably the biggest emotional event of the skating competition, the gold medal for Sui Wenjing and Han Cong. Yes, they made a mistake. But they also took a big risk with the quad split twist. Beautiful program and choreography. Such incredible skating skills, such passion and intensity. And how could one go wrong skating to the lyrics of Paul Simon's "Bridge Over Troubled Water"?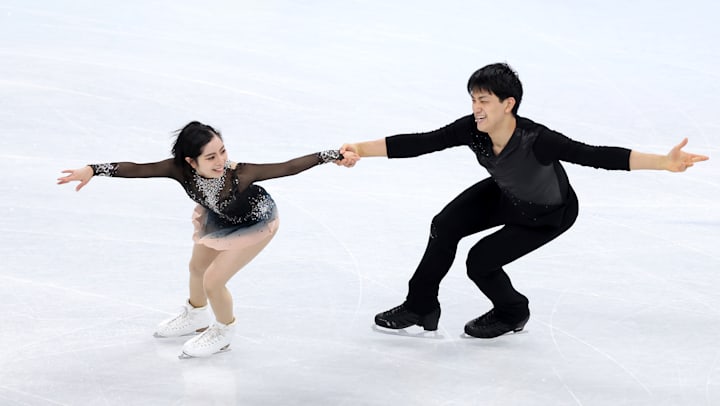 I still love skating. I'm very sad that such a bad light has been shone on my sport. But hopefully it will be cleaned up and the road for future skaters will look brighter.