I haven't really had a chance to get my thoughts together about losing so many wonderful horses and the entire barn at Sunnybrook. I'll have to write more about that later.
I am so grateful that there are 13 horses still remaining, among them the incredible horses that Julie and I ride: Skye, Rex and Daisy. We are both so relieved to say that Polka, Carmel, Yukon, Dante, Flight, Queenie, Huckleberry, Will, Georgia and Clyde are also alive!
Sugar is the horse that I have thought about the most; she has always been the "welcome" horse in the first stall – standing or box. My last ride on Sugar, some time in the winter, was wonderful. She was showing off her increasing and decreasing canter circles. Last Thursday I said hello and goodbye to Sugar, as I always do. She looked her usual serene self just standing there checking out the view. It can't really have been the last time, can it?
Here's a picture of Sugar from this past December.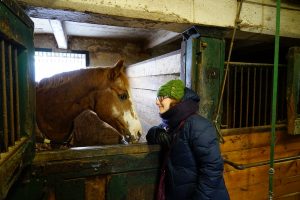 Like all Sunnybrook horses, she served us well. Thank you, Sugar. We love you and we will miss you.
By