I'm sitting here "watching" the lead-up to the Oscars with my sister-in-law Felicity who absolutely ADORES the whole thing. I'm not into it – haven't seen a movie for a long time – however, I thought it'd be nice to share this family moment. And I got some vegan ice cream.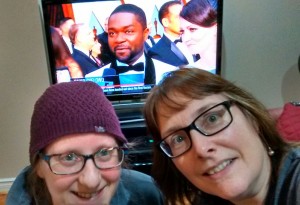 Were there ancient equivalents to the Oscars? Maybe not, but here are a few relevant links.
Two years ago, the Wall Street Journal reported that in ancient Greece awards for acting included a goat, not a little golden statue. The Getty Museum blog also revealed the origin of the word trophy  – worth reading. In case you don't know, The Getty Museum is located in Los Angeles and the foundation is dedicated to preservation of art.
While watching the Oscars (or any other award show – or show – for that matter) you might munch on popcorn. NPR's The Salt traces the history of this fibrous food from its origins in Mesoamerica. In case you don't know, NPR is National Public Radio, a very erudite radio network. Also in case you don't know, I can't eat popcorn. Don't talk to me about that!
Here are Felicity's picks:
Best Picture: Moonlight – she says, "broke her heart. Had to control vocal sob in theatre at the end."
Best Actor: Denzel Washington for Fences. "Because Casey Affleck doesn't deserve the award unless people acknowledge his numerous sexual assault allegations." Here's her historical perspective: "white men continue to get away with everything."
Best Actress: Emma Stone for La La Land. Two las, to be clear. She is "magical in the movie and her song, 'Audition,' is so moving."
Best Director: "it just can't be Mel Gibson." I have to agree with her on that even though I haven't seen one single film nominated.
Just an aside, I did recognize one of the interviewees on the tv: Lin Manuel Miranda, musical genius from Hamilton.
I will say that I do wish to see Hidden Figures some time soon, at least within the next year.
By