My sister-in-law Felicity and I went to the Van Gogh immersive at the Toronto Star printer building. Fantastic!
I absolutely love Van Gogh's paintings. Seeing them deconstructed and highlighted at the same time using modern technology was fascinating and wonderful. We thought it was going to be a walk-through; instead, the audience stays still and the images project on the walls, moving and dancing to music almost.
While I thought the music was a bit overwrought, it was appropriate, generally following the flow of Van Gogh's short life from Holland to France.
There are cafe scenes…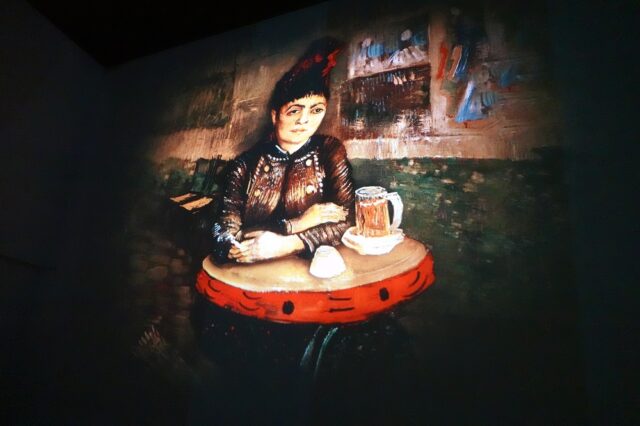 And agrarian scenes… with hillsides winding while cypress trees climb up the screen and clouds wander by..
And images from his famous paintings of irises and "Starry Night…"
We stayed for two loops of the show and were quite mesmerized by its animation of something old in a thoroughly modern way. To truly bring it to life.
The only bad thing was the usual exit from spectacular art to pedestrian commercialism as you move straight into the gift shop. That's the same thing at museums these days too, sadly.
By