In addition to CTRL-F (which we will use in class), COR (Civic Online Reasoning from Stanford University) has some really useful videos on how to become a fact checker!
See Google Classroom for CTRL-F links.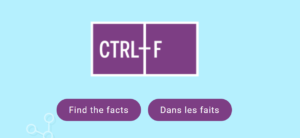 Here's a great method of assessing the reliability of an online source: COR – Civic Online Reasoning, a new tool from SHEG, Stanford History Education Group.
These are the three key questions of COR: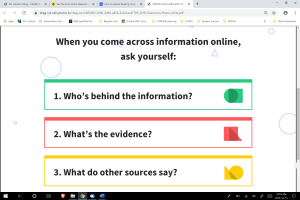 They will help teach us some excellent skills that will be valuable in all subjects:
lateral reading
fact-checking
determining who is behind the information
judging what is quality evidence
In other words, if you live online, you had better be aware of your environment. Sadly, I think many students just exist online – they don't take the time to notice what is around them, where it's coming from, and the potential harm that can be done if thinking doesn't occur!
To begin your journey, think about the reliability and trustworthiness of my blog:
who am I? (Ms. Gluskin)
what are my credentials?
is my blog sponsored? If so, by whom?
what are my biases?
Where will you look to find this information? How will the answers affect your attitude toward my blog?
Start with my "About" page and go from there.
COR Videos:
These videos (Navigating Digital Information) are produced by a group of organizations: Stanford History Education Group, Crash Course, the Poynter Institute, Media Wise. And they receive funding from Google.
Please view at least four of these videos – your choice of which ones, though it is suggested that you start with 1a. If you're a Wikipedia user, check out 5.
Intro to COR (1a)
Online Information (1b)
Fact-Checking (2)
Lateral Reading (3) Also this.
Using Wikipedia (5) Also this.
Evaluating Photos and Videos (7)
Social Media (10)
Our COR form: