If you use a website other than a well known encyclopedia (e.g., Britannica) or news site (such as BBC, CBC, PBS), you must check the reliability of the site. That is a very concrete approach. Let's think more broadly now.
This year (2019-20) we will learn a new method of assessing the reliability of an online source: COR – Civic Online Reasoning, a new tool from SHEG, Stanford History Education Group.
These are the three key questions of COR: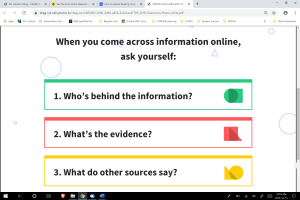 They will help teach us some excellent skills that will be valuable in all subjects:
lateral reading
fact-checking
determining who is behind the information
judging what is quality evidence
In other words, if you live online, you had better be aware of your environment. Sadly, I think many students just exist online – they don't take the time to notice what is around them, where it's coming from, and the potential harm that can be done if thinking doesn't occur!
To begin your journey, think about the reliability and trustworthiness of my blog:
who am I? (Ms. Gluskin)
what are my credentials?
is my blog sponsored? If so, by whom?
what are my biases?
Where will you look to find this information? How will the answers affect your attitude toward my blog?
Start with my "About" page and go from there.
COR Videos:
These videos (Navigating Digital Information) are produced by a group of organizations: Stanford History Education Group, Crash Course, the Poynter Institute, Media Wise. And they receive funding from Google.
Please view at least four of these videos – your choice of which ones, though it is suggested that you start with 1a. If you're a Wikipedia user, check out 5.
Intro to COR (1a)
Online Information (1b)
Fact-Checking (2)
Lateral Reading (3) Also this.
Using Wikipedia (5) Also this.
Evaluating Photos and Videos (7)
Social Media (10)
Let's Practice
Have you seen The Two Popes on Netflix? I have seen it twice and love it! That's not to say I believe every word of it to be true. The movie is based on a meeting that never actually happened, but there's a lot more to check about it than that. I began my search by googling "fact checking the two popes." A number of media organizations seemed to have taken up this call. One that I found most interesting was from Slate
I like that Slate's account linked to all of its sources. Most of the links are functional, most are in English (some are in Italian or Spanish, given the subject).
However, I didn't want to automatically trust Slate's view of things, so I continued my fact-checking inquiry and found a few other sources that gave basically the same information using similar sources. With that, I felt that I had a pretty good sense of what was factual and what was fictional in this movie. Knowing this didn't change my enjoyment of the film as entertainment; I just felt more secure in my knowledge of what was actually historically true.
I went through the same fact-checking process while I watched HBO's Chernobyl on Crave during March Break. As a history teacher, I can't seem to stop myself from doubting. That's being skeptical, not cynical (according to Crash Course's approach to assessing online reliability).  In the end, I really appreciated the series. However, after skimming through at least five other articles, I had a good sense of what was true and what was untrue and what was undecided.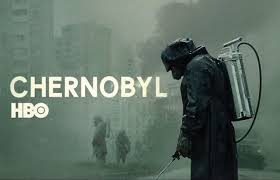 Practicing your fact-checking with sources that are part of your everyday life (movies, tv shows, documentaries, tweets, etc.) will be a great tool for applying this skill to history sources.
The Form
Use this form to assess the reliability of a website (excluding encyclopedia articles, or sources from mainstream media such as BBC, CBC, PBS, CNN, etc.)
CHY4U_COR_Assessing_Reliability_Websites
See CCA Step 2 for a sample by Ms. G.
Submit a separate form for each website you use.
One Response to "Assessing Reliability of Online Information"