If you use a website other than a well known encyclopedia (e.g., Britannica) or news site (such as BBC, CBC, PBS), you must check the reliability of the site. That is a very concrete approach. Let's think more broadly now.
This year (2019-20) we will learn a new method of assessing the reliability of an online source: COR – Civic Online Reasoning, a new tool from SHEG, Stanford History Education Group.
These are the three key questions of COR: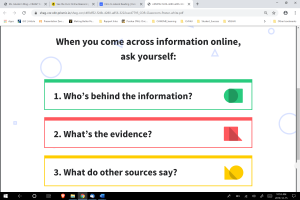 They will help teach us some excellent skills that will be valuable in all subjects:
lateral reading
fact-checking
determining who is behind the information
judging what is quality evidence
In other words, if you live online, you had better be aware of your environment. Sadly, I think many students just exist there – they don't take the time to notice what is around them, where it's coming from, and the potential harm that can be done if thinking doesn't occur!
To begin your journey, think about the reliability and trustworthiness of my blog:
who am I?
what are my credentials?
is my blog sponsored? If so, by whom?
what are my biases?
Where will you look to find this information? How will the answers affect your attitude toward my blog?
OLD
Fill in this form and hand in.