It has been a while since I've reported on recently read books. Taking the TTC still allows me lots of time to read, mostly in the mornings when service is more reliable. It's hard to read standing up on the way home.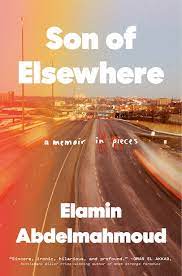 Val recommended this book to me after he read it. Val and I don't always enjoy the same kinds of books, however, we both enjoyed this one.
I had never heard of Elamin Abdelmahmoud even though I'm a CBC person. He's a CBC host, apparently, but his field is popular culture so I would never have known about him. I'm rather an outsider when it comes to popular culture. His book, in a nutshell, is about immigrating to Canada at a young age from Sudan. The glitch: he moved to Kingston, Ontario, where he came to learn he was seen as Black in Canada. He writes about this with humour and sensitivity. It was a great book for a white person such as me who has had no life experience of having to fit in.
Elamin definitely has an interesting personality. His writing is sweet and quirky and metaphorical. Highway 401, seen on the cover, emerges as the dominant metaphor in his life as he travels up and down, from his restricted life at home in Kingston with his family to his new and more freeing opportunities down the road in Toronto and beyond.
Elamin came to love wrestling, particularly writing fantasy wrestling scenarios. Who had ever heard of this? It got him into writing. He became very methodical about it. And thankfully so for he has written a great gem.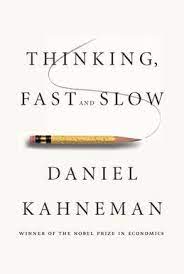 Since I had enjoyed Val's recommendation of "Son of Elsewhere" so much, I asked him to suggest another book for me as I had nothing lined up. The previous two books I had read were kind of fast moving so I wanted something longer. He went with Daniel Kahneman's "Thinking Fast and Slow." Wow, what a different kind of book. Very heavy and academic, but also really well written, funny at times.
The last time I read a book with a section on economics was in a biography of Karl Marx. The chapter on his economic views for Das Kapital put me to sleep. I hardly ever skim over a chapter when reading. This time I made it through an entire 400-page book by an economist – well, he's actually a psychologist. That's mostly because he is a very entertaining writer. I loved it when he totally dissed people who pick stocks. It's just the law of averages, he says. More so than the material, I enjoyed Kahneman's descriptions of the life of a professor. Interesting life. His wife, it turns out as revealed in the post-script, is also a great writer. She wrote short summaries at the end of each chapter that made the complex psychological concepts much more digestible.
The major theme of the book is that our brain has two systems: one that think quickly and without deep consideration; the other that considers and analyzes. If we can learn more about these systems, we can make better decisions and become more aware of when we're not making decisions at all. I find a lot of this applicable to my job as a teacher. However, most likely I'll forget it because it's so complex. That is the current state of my brain (my memory).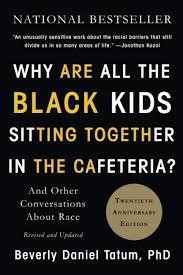 Last year I attended an equity workshop that mentioned this book by Beverly Tatum, originally published in 1997. When I saw this 20th anniversary edition in my local bookstore I jumped at it. And that was not a mistake.
The first chapter, a prologue written in 2017 after the Obama years and just as Trump was elected, was a highly depressing summary of the history of the last 20 years in the US replete with police shootings and entrenched white supremacy.
The premise of this beautifully written, personal and heartfelt book is that all children and teenagers, regardless of race, develop their racial/ethnic/cultural identities in their social contexts, whether that's in situations where they're in the majority or the minority.
Even though the book is American, I found it really helpful for prompting me to consider my students' identity development processes. I sincerely hope that the Canadian context is different the American one, though this may be inherently naïve. Like all equity materials I have read over the past few years, it reminds me that racism is best understood as institutional, systemic.
One resource that Tatum relies on often is comments from students in her past university seminars on racial awareness. I found these the best parts of the book, honestly addressing the challenges of all kinds of students in living in a rapidly changing world. I loved reading their words, first person. Tatum is an optimistic – some might say slightly naïve, person who feels change is possible through hard work and deliberate interactions between people of different backgrounds overcoming their fears, ignorance, and lack of past experience.
This line really got my attention on the subway: "Institutional policies and practices are created and carried out by individuals, and when those individuals have homogeneous social networks, they too often lack empathy for those whose lives are outside their own frame of reference. I believe opening social networks and closing the empathy gap is a step toward bringing about positive change (Tatum, 345-46)."
I don't have a next book. This one was really hard to top.