Looking back, I now realize that a hospital is somewhat like a school and somewhat like a court. In other words, institutions have a lot of similarities.
I am very grateful for the excellent treatment I received at Michael Garron Hospital (MGH). Though my stay was brief (two nights), I feel I got some insight into how a ward worked, just as I tried to gain some insight into the court system when I nearly became a juror a few years ago.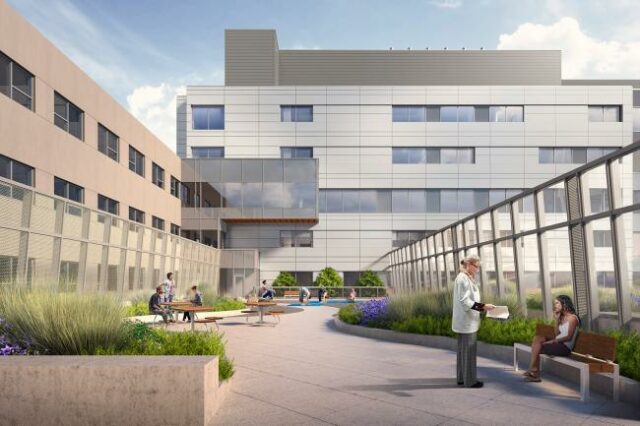 Nurses are wranglers, like teachers. Their patients have to be corralled to take their medications and follow doctors' orders. This is especially true at night. Even if they're sleeping they have to submit to the same schedule of blood pressure and heart rate checks as during the day. Like teachers they must impose this care with the utmost kindness and efficiency. I was very lucky at MGH to have wonderful nurses who brought a sense of humour and compassion. Most of all, they listened.
Like a court, a post-operative hospital ward is full of mostly newbies (though there were definitely some repeat patients just as there were repeat potential jurors). There are a lot of signs and procedures. The most interesting procedural moment was when the entire gaggle in the pre-op waiting room moved together down the hall to the surgical waiting room. Val said it looked like a bunch of waggling ducks, all of us in our matching hospital gowns, socks and footcoverings. Thinking back, it was kind of similar to how we travelled as a group of 20 jury candidates as we moved in the not-often seen corridors behind the courtrooms at 361 University Avenue.
The court system doesn't feed potential jurors. I wonder what they feed actual jurors??? I don't want to sound offensive about the vegan food at MGH because the intentions were good. Execution was hit and miss: A palatable lentil soup but a slop of vegetable stew that I am sure contained meat; a passable chana masala with incredibly bland green beans and rice (though mixed together there was some seasoning there). I didn't eat the first meal that was delivered as it wasn't vegan. The PSW showed it to me and that was enough to make me turn off food for a day. The second delivery (vegetable chili) seemed okay but my appetite still hadn't returned after seeing and smelling the hard-to-identify fish patty. Regardless, the meals were delivered in a timely and friendly manner. There were options, and the trays were picked up routinely. The humans behind the system are obviously working hard and doing their best to provide healthy options.
Nurses and teachers have family members of their "clients" in common. Just as teachers must keep in touch with parents, nurses must reach out to family members about visiting times (it is the covid era, after all), clothing items needed, missing medications, etc. Covid probably keeps this issue more at bay for nurses, though that is just an outside observation. Perhaps not having family members physically available means more chasing after phone calls and emails. As far as I saw when I was "auditioning" for jury duty, there was no familial connection at all, except for the fact you're not supposed to discuss anything with anyone!!
One thing that is in demand in a hospital is a walking straight-away. By that I mean a long corridor uninterrupted by rabbit-warren-like offshoots (due to renovations and additions over the years). There was one such runway on the fifth floor of MGH that seemed to be used by patients of both units A5 and B5. It ultimately led to a small elevator area with a good overlook on the new construction. From there I could see the old buildings and their connections to the new building, the attempts to match brick colours, the courtyards, and the open spaces. It looked quite nice and I suppose its future completion is aspirational for patients hopping to get out of the joint! At that same end of the above-mentioned corridor was a seemingly unused back used doorway to the "end of life" care area, MGH's palliative care ward, I suppose. I felt sad every time I went near that door, especially knowing that my stay would be brief.
So, like a school and like a court system, a hospital – though an institution – is at heart a place full of people.