I have always liked cooking; however, I haven't always followed through on my passion. I come from a culinary family; my grandmother (Bubi Lil) was a baker, baking teacher and cooking and baking book author. That said, she wasn't exactly the most experimental cook. I'm not sure what she would make of me being vegan. My mom is an amazing cook – she's very willing to experiment and always trying to find new ways to feed her vegan daughter and step-daughter.
This year I vowed – as I always do – that I will cook more and rely on frozen and delivered meals less. So far I'm doing well, I'm happy to report! Val has even followed in my path. One thing I've stuck to very well is reducing my pasta consumption – I totally OD'd on pasta last year, truth be told, especially when I was stressed out.
A staple for me has become roasting vegetables on Sunday: carrots, mushrooms, zucchini, sweet potato, onion, and whatever else is on hand (if we happened to have grocery shopped appropriately). We've been having our roasted vegetables with quinoa and an occasional tahini/lemon/maple sauce. I'm a plain eater so I'll eat the vegetables and quinoa by themselves. Val may not exactly be happy with that but he doesn't say so directly.
Over the last few weeks I have gone back to an old standby: bulgur. Though I'm trying to reduce my wheat consumption (and bulgur is just little bits of wheat), I am magnetically attracted to the simple ease of cooking bulgur – it's even easier than quinoa. One of my favourite recipes of all time is bulgur with carrots and cabbage. It couldn't be easier – bulgur, chopped carrots, sliced cabbage (red is prettier than green in combination with the carrots), tamari or soy sauce and veg stock. It's done in 15 minutes. I like soft food so I tend to over cook it. It's supposed to be garnished with parsley and peanuts but I never plan ahead so I just eat it as is.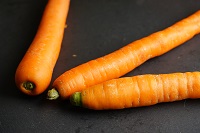 Another staple has been mushroom ginger soup. It's from a recipe I picked up in one of those grocery-store magazines promoting their products. Well, Longo's did a good job on this one.
Cook leeks and assorted mushrooms – cremini, shiitake, oyster – in a bit of canola oil for about 10 minutes. Add ginger, garlic, soy sauce and miso. Add vegetable stock and cook for about 10 minutes. Add spinach and remove from the heat. At the end garnish with enoki mushrooms and sliced green onions. Recently I've been adding black rice ramen noodles (which I found at the health food store in Peterborough). They thicken it up massively.
Makes a lot, easy to reheat. Yummy. Did I mention that I love mushrooms beyond words?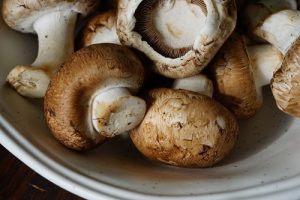 Note: good miso (AKA more expensive) is worth it. The brand I got from The Big Carrot has the most amazing nutty scent. I used to use a brand that came out of a and was relatively cheap. Needless to say, I won't be going back to it.
Val uses the instant pot a lot. I am afraid of this appliance!!! Lately, he has been making his vegan pot roast (a stew with potatoes, mushrooms, carrots, parsnips, etc.) accompanied by vegan corn bread. OMG, so good. The secret ingredient is pomegranate molasses. Sweet yet tangy.
On a parting note, the best vegan snack is fennel. I love seeing people's reaction to it when I bring it to school and eat it raw – they think I'm eating an onion.