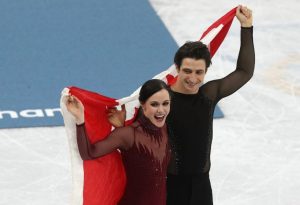 Toronto Star
They seem to belong to the world now. That's what the Olympics do.
Though they had a following around the world well before the 2018 Olympics, they are now of the world, of the pop culture world that cares more for their 'relationship story' than for their skating skills. Shipping? Fan fiction? Tabloid headlines? These are not the things for my Tessa and Scott.
As a longtime devotee of ice dancing I care most for Tessa and Scott's skating skills, even as much as I love them as characters. To me, they move like no one else. And they move as one. I don't think there's any other ice dance team that skates as closely together. Again I say, as one. They never have to reach for each other. Other teams approach this, such as the French, though it's not my preferred version of close – it's cool, not sensual.
Perhaps it's best to define closeness with its opposite – the Russians, Bobrova and Soloviev. They are always reaching, scratching. Though I actually like their "loss of sight" free dance (it took a while for me to be able to say that), I feel it is made worse by their somewhat chaotic skating skills.
Hubbell and Donohue approach the 'simmering' look of closeness. But to me it's more of a look. Tessa and Scott don't just look that way. It's a skill honed over two decades to get that organic way of moving together. As a Canadian I feel that Weaver and Poje come very close to skating as one. For some reason the judges do not think on the same level. I cannot explain that, nor can any commentator I've ever heard.
I will see all of my favourite Canadian skaters (plus Javier Fernandez, apparently) at Stars on Ice in May. What I absolutely love most about it is seeing their passion for skating on their faces, up close and personal.