Good Things of 2017
Tessa and Scott: I love the Roxanne program. I love their energy and passion. Yes, Scott sometimes gets into it too much and he's not perfect. I don't care. They're perfect together.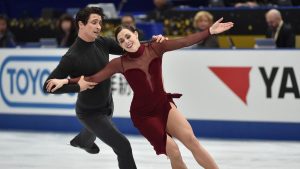 Euro Sport image from NHK Trophy in Japan.
Murdoch Mysteries: still going strong after 11 seasons. May I just say, please let George be happy for more than half a season!!!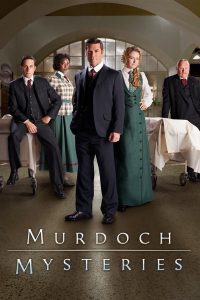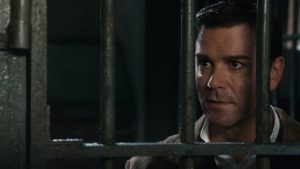 Murdoch saved from jail once again.
Alias Grace: I sort of watched the mini series on CBC, mostly because it followed Murdoch Mysteries. I recently read the book by Margaret Atwood. Readers of my blog will know that I DO NOT usually read fiction. Though it is based on a true story, it is still fiction. I loved it! I don't think Grace murdered Nancy Montgomery. After watching the mini series, I thought I recognized the actress who played Grace, but I couldn't quite recall from where. It turns out she played Ruby Ogden, Julia's sister, on Murdoch. Small world. Or, CBC world.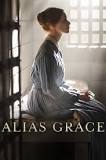 Cooper's Bar Mitzvah: my nephew did a great job on his big day in October. His friends coming up and speaking about him was very sweet, especially for 13-year old boys. The weekend provided a wonderful opportunity to visit with family from out of town.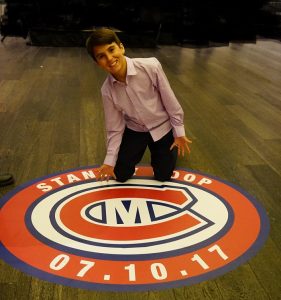 Hockey theme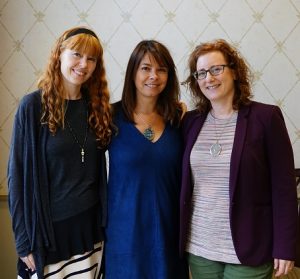 Emilie, Shannon and Risa – first cousins from Vancouver.
Richard Parker, the Cat: phrases commonly heard around our house now that we have this energetic little devil – RIIIIIIIIICHARD (downward inflection)! What are you doing? How did you get THERE? Who brought the blanket into the kitchen? Get out of everyone else's food!!! Leave Bailey alone!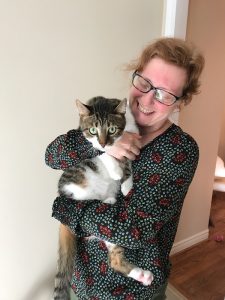 Risa and Richard, taken by my cousin Emilie Irelan in October.
Here's a rare scene: all four cats together – Val is feeding them treats.
Rapport: the blog I edit for OHASSTA. This is why I don't have much time to blog here anymore. Doing the paper edition for the November conference made October extremely stressful, but I proved that I could do it.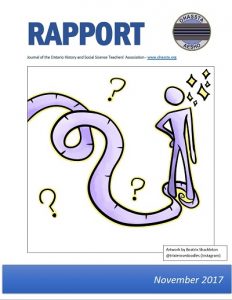 Museums, especially the newly revamped Canadian History Hall in the Museum of History in Ottawa: OHASSTA conference attendees got a tour – I really loved the story of Nuvumiataq,  who was reconstructed from bones found in the Arctic (on Baffin Island). He is also in Canadian Geographic magazine's Nov/Dec. issue which focuses on Indigenous peoples of Canada. The guide told us that when Inuit advisors from Arctic Bay saw the finished exhibit for the first time they thought he looked familiar!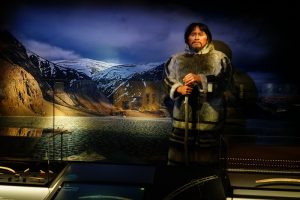 The Table: vegan buffet restaurant in Ottawa – it is SO nice to have more than one choice on a buffet – choice of everything is pretty amazing.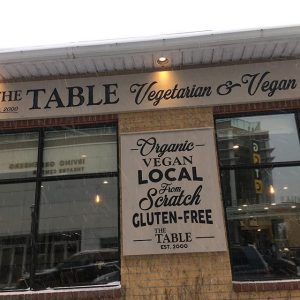 From The Table's Instagram account.
Skye: my vote for horse of the year at Sunnybrook Stables – calm, predictable, relatively gentleman-like (except when he is eating), capable of being ridden in a lovely frame, cloud-like canter. Rex would be second place for me – cute as a button (except when that gigantic head of his accidentally hits you – it hurts!).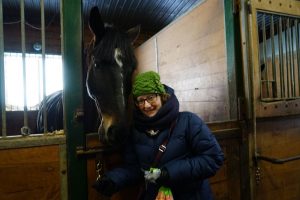 Skye getting his Christmas carrots.
Huntsville area: our summer trip included a fun visit to the Screaming Heads, a rural property near Burk's Falls full of huge concrete art pieces. The land belongs to artist Peter Camani, a former high school art teacher. This one says "put up your hand." As a teacher, I can relate! I have to say, however, my favourite part of the visit was not the art (I don't tend to "get" art); it was the walk through the sprawling meadow across the street. I have always wanted to walk through a meadow with its waist-high grass and jumping grasshoppers. It did not disappoint.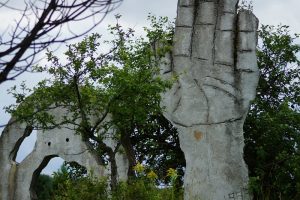 Squirrel in the fireplace: Anonymous creature got in sometime on Fri. Dec. 22 and was there to greet me when I arrived home from school. Our fireplace is two-sided so I got some pretty good views of him. He had to be lured out with peanut butter into one of the cat carriers. Mission accomplished. He is not staying. We had a brief moment of eye contact – I do love squirrels, just not in my home.
Val: my husband continues to be the most wonderful, supportive, caring man on earth. I love him so much and he deserves immense credit for keeping me sane. Here he is in the above-mentioned meadow at Screaming Heads.