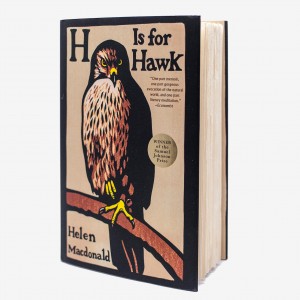 I just bought this book, and I just finished this book. Usually I am not a quick reader; in fact, I am reading four other books right now. On so many levels I just could not put it down.
Absolute kudos to Helen Macdonald, an absorbingly beautiful nature writer. I love nature (to look at it) and I love birds: What a wonderful combination in the hands of Macdonald. Weave in some psychology, history and literature and you have an enthralling story. Fellow history person (she is a teacher of history and philosophy of science at Cambridge University), Macdonald was, from a young age, obsessed with hawks and became a falconer. The book tells the story of how she trained a goshawk after the sudden death of her father, a very special person in her life. So yes, it is a psychological tale of coping with grief through depression.
There are many reasons why I wouldn't like, or even want to read, this book. Admittedly the goshawk is a bird I had never heard of. I looked it up in our birding books at the cottage. My closest experience is with "Ossie", the osprey that visits the tallest branch of the tree at the cottage next to ours. Ospreys are related to eagles, not hawks. Both eat meat (well, ospreys eat fish). The book contains many vivid descriptions of hawks tearing apart rabbits or being fed baby chicks. More correctly, during the training process, Mabel the hawk would catch the rabbits and Helen the trainer would kill them. Not exactly a book for vegans, one would think.
The other reason the book wouldn't seemingly be fit for me is that it is a literary exploration of falconry through the ages, and I, directly, don't do literature. In particular, Macdonald weaves into her personal story the biography and work of TH White, author of The Once and Future King, the source material for the play Camelot. I know nothing about King Arthur and Merlyn and all that stuff. Have no interest in it whatsoever. However, Helen Macdonald does a masterful job of making the reader care about this complicated character, even a misfit,  who also tried to train a goshawk.
Now on to finish David Remnick's King of the World: Muhammad Ali and Rise of an American Hero which I started a few months ago at the cottage. Ali (then still Cassius Clay) is about to win his first big fight against Heavyweight Champion Sonny Liston. From great nature writing to masterful sports writing.